Shungite is found in the Russian part of Karelia. The deposit of shungite extends over a vast area of 3,500 miles, several hundred feet below the surface.
Shungite is protective, healing and detoxifying.
It is likely due to the presence of fullerenes that shungite does not take on a charge when exposed to sources such as electromagnetic radiation or human emotional influences.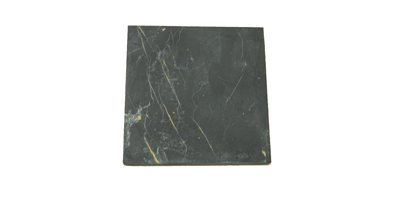 Shungite Tiles $54
Shungite modifies the influence of electromagnetic radiation because it does not become saturated or take on negative charge, and powerfully keeps on transforming the radiation into bio-compatible elements.
Shungite Cylinders $59
The cylinders are used as harmonizers. A current of subtle energy runs through the body of the person holding it.
Shungite Pendants $12.95
Wearing a pendant will exercise a powerful effect on the whole energetic body.
Shungite products available in our store:
Spheres and Pyramids
Organite Pyramids with Shungite
Cell Phone Protectors
Flat and Tumbled Stones
Silver Shungite