We hand select the finest inspirational books on subjects from crystals and gemstones, to spiritual teachers, self-healing, and higher consciousness.
You will also find more than 100 different styles of Tarot decks, from the classic Rider deck to Angels, Faeries, and Medicine Women cards, each beautifully illustrated.
101 Power Crystals
By Judy Hall

The Ultimate Guide to Magical Crystals, Gems and Stones for Healing and Transformation
Discover the mythology, history and symbolism of every stone, as well as the healing properties and environmental effects. Each crystal is attributed with a specific power, such as manifestation or divine purpose, which sums up its overall effect. Suitable for beginners to advanced crystal practitioners.
$17.95Read more
Animal Spirit Guide
By Steven D. Farmer

Dr. Farmer, author of "Power Animals," provides concise, relevant details about the significance of more than 200 animals that may come to you in physical or symbolic form as guides and teachers. With each animal listed, you'll find general meanings of the visitation; practical ways that they can help you as spirit guides; and how they reflect characteristics that you possess.
$17.95Read more
Astrology of 2012 and Beyond
By Cal Garrison

Garrison explores the changing sky, starting with the movement of Pluto into Capricorn, a region it hasn't inhabited since 1733.  She draws on traditional astrology and her understanding of the Hopi prophecies and their relationship to the Mayan 2012 predictions, to offer practical advice and information that will help us evolve through the next four years — including what to expect and how to survive during the nearly inevitable pole shift.
Chakras for Beginners
By David Pond

A Guide to Balancing Your Chakra Energies
This book is filled with easy to follow exercises and meditations that will allow you to balance out the energy in each of your chakras. This will help you to make better decisions (3rd chakra) and get more pleasure out of life (2nd chakra). The other chakras can help you improve your communication skills and overcome your fears. A perfect starter guide.
$11.95Read more
Crystal Bible
By Judy Hall
Crystal Bible: A Definitive Guide to Crystals is beautifully illustrated and is an indispensable practical handbook for crystal lovers everywhere. For both beginner and expert alike it provides information on appearance, worldwide distribution, attributes, actions and healing properties.  A comprehensive index cross-referencing crystals to applications, ailments and conditions makes this book a vital reference for all crystal users.
$19.99Read more
Crystal Bible 2
By Judy Hall
Fans of the original Crystal Bible will welcome this new edition with over 200 more crystals. The directory format and beautiful, full-color photos ensure that crystals are easily identifiable. The accompanying descriptions provide information on their attributes, actions and healing properties. Both major and lesser-known stones currently available are covered, including those only recently discovered.
$19.95Read more
Love Is In The Earth
By Melody
A Kaleidoscope of Crystals
This is the definitive book on the metaphysical aspects of crystals and minerals. It contains over 700 pages of in-depth information and is formatted just like a dictionary for easy reference. Many crystal lovers have said, "If I could only have one reference book of this sort, this would be it!"
$18.95Read more
Love Is Letting Go of Fear
By Gerald Jampolsky, M.D.
Love Is Letting Go of Fear has inspired millions of readers along the path of self-healing. Twelve simple lessons reveal the way to drop the past.  Dr. Jampolsky helps you to see the limitations imposed on you by your own mind. Let this powerful book guide you to a life in which negativity, doubt, and fear are replaced with optimism, joy, and love.
$11.99Read more
Pendulum Magic for Beginners
By Richard Webster
Power to Achieve All Goals
Learn how to use a pendulum for magic, self-improvement, and psychic development. You'll also learn about Huna, the little-known methods practiced by the Hawaiian Kahunas to create magic and miracles. This book teaches you how to communicate with your subconscious mind, find lost objects, select a potential mate, help resolve health issues, communicate with spirits, and explore past lives.
Sedona's Top 10 Hikes
By Dennis Andres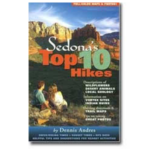 This 112 page book combines in-depth information about the landscape and trails, easy to understand maps, directional guidance, and spectacular full color photography that lets you know what types of vistas await you along the trails — and make this Sedona's most beautiful and descriptive hike book. Hikes are rated from easiest to most strenuous and include round-trip mileage and times, vortex notes and ideas for where to go after the hike, and much more!
Serpent of Light Beyond 2012
By Drunvalo Melchizedeck
The Movement of the Earth's Kundalini and the Rise of the Female Light 1949 to 2013
Every 13,000 years on earth a sacred and secret event takes place that changes everything. This time, with much difficulty, the Serpent of Light has moved to the Andes Mountains of Chile and Peru. For the first time in this book, Drunvalo begins to tell his stories of 35 years spent in service to Mother Earth. Follow him around the world as he follows the guidance of ascended masters, his two spheres of light, and his own inner growing knowledge.
$19.95Read more
The Great Shift
By Martine Vallee
Co-Creating A New World For 2012 and Beyond
This extraordinary book brings together many sources of important information on the changes occurring in our world, ourselves, our universe, and the evolution of consciousness leading up to the year 2012. The text is addressed in part to Lightworkers. Time is getting closer. The Great Shift is a progress report from the field and the messages are positive.
$17.95Read more
You Are Psychic
By Pete A. Sanders
A Proven Program For Expanding Your Psychic Power
You Are Psychic presents a scientifically proven method for harnessing your own inborn psychic powers and using them to achieve breakthroughs in everyday life. Based on Sanders' extensive study of biomedical chemistry and brain science at the Massachusetts Institute of Technology, he shows how you can tap into your own psychic abilities at will to experience virtually limitless knowledge and control of your own destiny.
$15.00Read more
Your Seven Energy Centers
By Elizabeth Clare Prophet  
A Holistic Approach To Physical, Emotional & Spiritual Vitality
This little book contains powerful insights and tools for wholeness based on the science of the body's subtle energy system. It draws from the wisdom of the world's spiritual traditions to show how you can nurture your soul through seven stages of personal growth. It includes an overview of holistic techniques to restore the body's energetic balance, ranging from homeopathy and vitamins to meditation, affirmation and visualization.
$8.95Read more
Gaia Oracle
By Toni Carmine Salerno
Guidance, Affermations, Transformation (45 cards and guidebook, packaged in a hard-cover box set)
Gaia Oracle will point you in love's direction and help you find the answers you seek.
45 Gaia-inspired images designed to bring peace and healing
45 powerful heartfelt messages that offer guidance and clarity
45 self empowering affirmations to help you fulfill your dreams
$21.95Read more
Heart and Soul Cards
By Toni Carmine Salerno
Oracle Cards for Personal and Planetary Transformation (54 heart shaped cards in a heart shaped box)
This beautiful deck, featuring the illuminating artwork and words of Toni Carmine Salerno, offer practical guidance. Answering questions on love, life and the impermanence of our physical existence, they provide nourishment and inspiration for mind, body and spirit.
Reminding us of our true immortal nature, Heart & Soul Cards urge you to look within your own heart, for it is from within that the extraordinary is created and is able to manifest in our everyday life.
$21.95Read more
Medicine Cards
By Jamie Sams and David Carson  
The Discovery Of  Power Through The Way Of The Animals
(52 card deck and guidebook)
Discover the tool that millions of people worldwide are using for guidance, inspiration, and help in finding answers to life's questions. Revised and expanded to include eight additional cards, this powerful divination system draws upon ancient wisdom to teach the hearts and hands of many, guiding the way to healing the body, emotions, mind, and spirit, and providing insight into and understanding of one's unique purpose in life.
$29.95Read more
Osho Zen Tarot
By Osho
The Transcendental Game of Zen (79 card deck & 192 page book)
The traditional Tarot is often used to know about the past and future. The Osho Zen Tarot instead focuses on gaining an understanding of the here and now.  Based on the wisdom of Zen, it says that events in the outer world simply reflect our own thoughts and feelings, even though we ourselves may be unclear about what those are. We are helped to turn our attention away from outside events in order to find a new clarity of understanding about what is happening in our own hearts.
$27.50Read more
Spirit of the Wheel Meditation Deck
By Linda  Ewashina
40 card deck with guidebook
Tapping into the healing energies of the traditional Native American medicine wheel, the evocative images in this 40-card deck represent the individual stones and their placement within the wheel. Whether you choose a single card or use one of the several spreads described, the cards guide you with gentle prophecies and prayers along the spirit pathways toward self-discovery.
$19.95Read more
The Psychic Tarot Oracle Deck
By John Holland 
65 Tarot cards with guidebook
This fascinating deck creates a powerful bridge between your psychic abilities and the ancient knowledge and meanings of the Tarot. The 65 beautifully illustrated cards help you develop intuitive insights about relationships, career, and other areas of life. In the accompanying guidebook, psychic medium John Holland explains techniques he practices himself and teaches in his workshops, utilizing colors, card spreads, divination, numerology, energy centers, imagination, and more.
$18.95Read more
The Wisdom of Avalon Oracle Cards
By Colette Baron-Reid 
52 card deck and guidebook
Based on the rich mythology of ancient Britain's Isle of Avalon and the wisdom teachings of its priestesses, this divination system is an inspirational tool to bridge the unseen world of spirit and our day-to-day lives. These cards will help you discover the potential of your own intuition, chart your path, and manifest your destiny with clarity and purpose as you follow the omens and symbols of the goddess, the kingdom of the faeries, Merlin, and the priestess of magical Avalon.
$15.95Read more