Description
This Chakra Therapy System uses the scents, gems, vibrations, and colors specified by the Celestial Realm to clear and harmonize your whole system.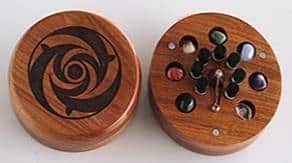 Clearing your chakras is the beginning of a richer, more harmonious life. Use this system morning and evening to create a peaceful, balanced flow of energy within and around you.
Beneath the stones is a matrix field with the copper frequency coil that creates a perpetual energy system. The box is available with engraved design or in solid/plain wood.